---
GRAD YEARBOOK SUBMISSIONS
Quote for students:
     Due date: December 1st
     Submit here!
Message from parents/guardians:
     Due date: December 1st
     Submit here!
---
GRAD PHOTOS
Location: CSS, Grand Hall
Date: Nov 3rd, 4th, 7th, 8th, 9th, 10th, 14th & 15th
Time: 2:30pm
**There is a $50 sitting fee, paid directly to the photographer for those who are planning on ordering photos. If you are not planning on purchasing photos we encourage you to have your grad photo taken at no cost.  These photos will be used in the yearbook, on the slideshow at commencement and on the school composite.  
---
GRAD AUCTION
Location: CSS, Main Gym
Date: TBA
Time: TBA
Cost: TBA
Each grad will receive credit for 50% of the sale price the item goes for. Credit then goes towards the price of prom and dry grad tickets. 
---
GRAD CRUISE
Date: May 5th, 2023
Time: 4:30pm
Cost: TBA
**Guest passes will be available in April
---
COMMENCEMENT
Location: Chilliwack Coliseum
Date: June 17, 2023
Time: 1:00pm
Commencement Invitation Distribution - TBA: See Mrs. Soltys in the career center to pick up your 4 complimentary invitations (grads do not require an invitation). Additional invitation are available for purchase through our online fee management system for $7 each and are available on a first come, first serve basis. 
Grad Gown Distribution - June 12th - 16th: Collect your gown in the office, we will be calling students down alphabetically by last name. Cap and gowns do not need to be returned, they are yours to keep!
---
BANQUET & DANCE
Location: Chilliwack Coliseum, 45323 Hodgins Ave
Date: June 28th, 2023
Time: 5pm (arrive at 4:30pm for group photo)
Cost: TBA
CLICK HERE TO PURCHASE TICKETS
Guest passes: Any grad bringing a guest to Banquet & Dance who is NOT in grade 12 at Chilliwack Secondary School will require an approved guest pass. All guests must be a secondary student in the Chilliwack School District. Submit your pass to the office for approval once approved you will receive instructions on how to purchase your guest ticket. 
The Prom Shop is pleased to offer a variety of new and gently used prom dresses for grads to borrow free of charge.  To set up an appointment please email thepromshop@sd33.bc.ca. Click the image below for more information.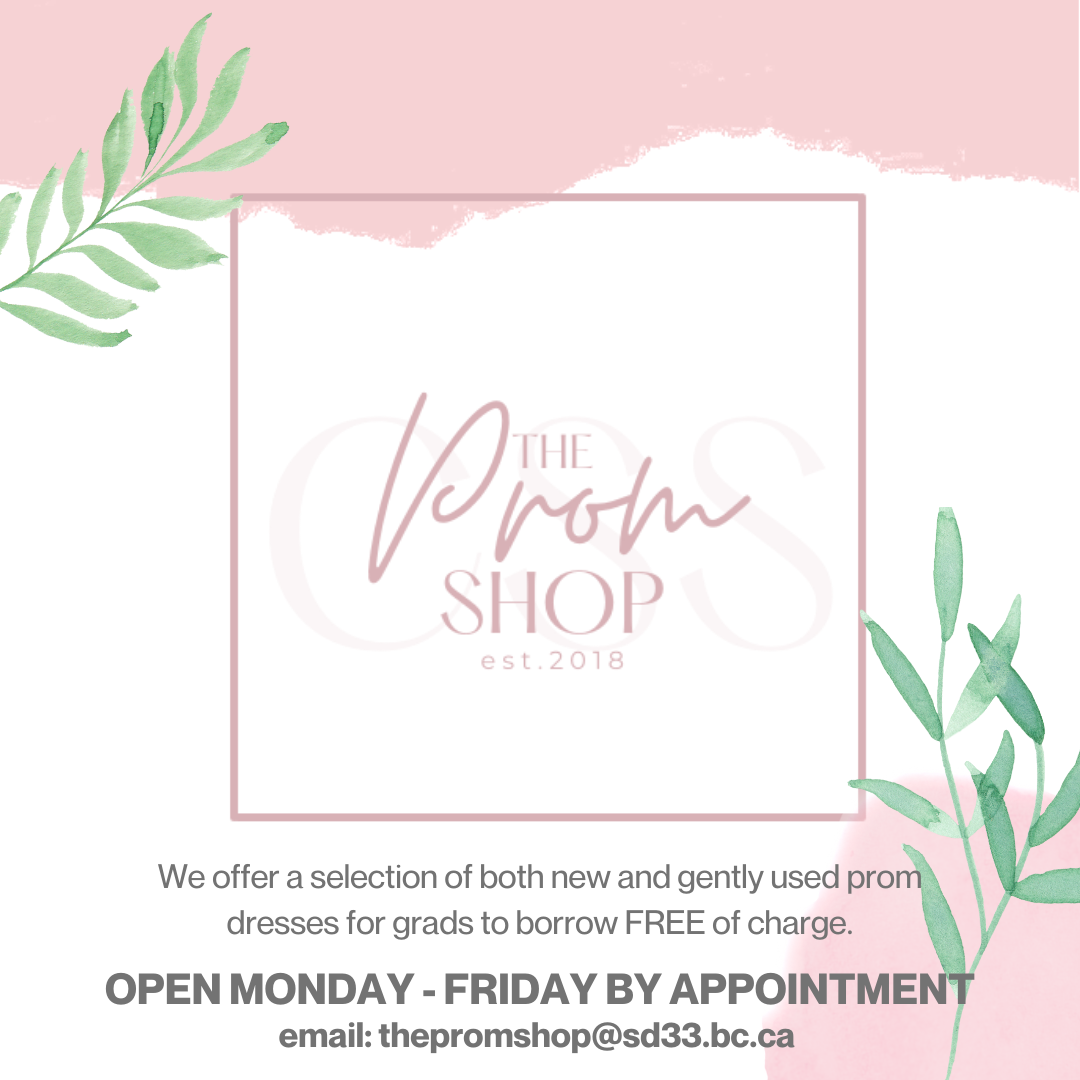 ---
DRY GRAD
Location: Landing Sports Centre
Date: June 28, 2023
Time: 11pm - 5am, no entry after 1:30am
Cost: TBA